Database in a back-end can affect web application performance significantly, however it happen web developers do not pay enough attention to the aspect. The talk shows different tools for viewing and modifying a database while debugging and profiling web applications, including relatively rare used approach: work with the database directly from IDE.
Philip Torchinsky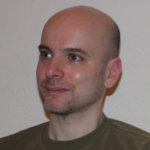 technology evangelist, JetBrains
Philip Torchinsky is a technology evangelist at JetBrains. His main specialization is UNIX technologies, his main interests at the moment are cloud technologies, issue trackers, and IDEs. Philip has led trainings for IT specialists since 1993, wrote two books on UNIX, and used to work at Sun Microsystems before he joined JetBrains.
LinkedIn: http://www.linkedin.com/pub/philip-torchinsky/1/958/69