In this presentation we would show an approach to stream data processing, which is based on using functional programming and F#. We would cover several real-life examples – from twitter stream processing and simple BI system in the cloud and on Windows 8 device, to gesture and pose recognition from Kinect and Leap Motion sensors. We would demonstrate usage of this approach and F# in real-life projects, and also cover such F# features as parallel and async programming, cloud computing and development for multiple client platforms, type providers, infinite sequences and others.
Dmitry Soshnikov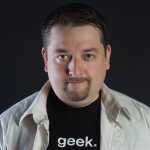 Technology Evangelist / Associate Professor, Microsoft / HSE / MAI
Dmitry Soshnikov is a Technology Evangelist at Microsoft Russia, whose main objective is to unleash the beauty and simplicity of using Microsoft technologies and .NET platform for both university studies and for the real world projects. In addition to his work at Microsoft, Dmitry is also an Associate Professor at Moscow Aviation Institute and Higher School of Economics. He has a PhD on Distributed Intelligent Systems, and has more than 60 publications in the area, among which a popular book "Funictional Programming using F#" (the first book on F# language from the Russian author), textbook "Logic Programming Paradigm". He is a member of Russian Association for Artificial Intelligence.