In the pursuit of performance, we fully focus on the optimization of the production teams. We use different management tools and at some point realize that performance is no longer growing. Let's analyze the external framework, hindering productivity growth, and find mechanisms to eliminate them.
Alexey Pimenov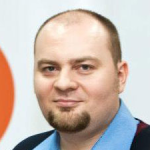 Program manager, R-Style
In the software industry since 1998. Rose from programmer to program manager. MBA in Strategic Management.
Interested in everything that is close to the management in software development. Constantly trained and actively share knowledge and experiences.
Worked for: Neotec, Vocord, Positive Technologies, InfoWatch, R-Style
Author of the blog: http://pimenaus.ru
Co-author of MultiSkill: http://multiskill.ru