I want to present:
A theory behind a face detection, age/gender classification and tracking.
Implementation of some of these algorithms for mobile operating systems. Various performance optimizations will be discussed, including parallel execution using threads and NEON instructions.
Overview of free face detection frameworks on mobile devices, such as OpenCV library and Android face detection API.
Igor Markov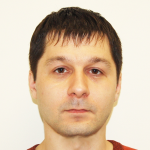 Team Lead/Technical Expert, Auriga, Inc
Graduated from Moscow Institute of Physics and Technology in 2002.
In 2001–2004 worked at a startup company where I developed a scalable file system with the HSM support.
Since 2004 I work at Auriga, Inc. Completed several projects in a field of embedded Linux systems. During 2006–2009 developed and delivered Linux kernel development courses. Since 2008 I work in a field of mobile application development. The platforms I developed for include Android, iOS, J2ME.