I would like to share my vision of DevOps. From my point of view DevOps is about transfering sense between technical systems and people.
Alexander Titov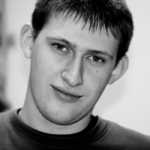 managing partner, Express 42
Alexander Titov is managing partner in Express42 company. Express 42 is providing DevOps practices, instruments and technical consulting for internet companies.
2009–2010 CTO of the first Russian cloud hosting company Scalaxy.
2010–2012 Alexander as head of Operations went with startup Qik.com through two acquisitions – by Skype and then by Microsoft.