In the paper we'll consider two main approaches to mobile apps cross-platform development: porting of native code from one mobile platform to another (e.g. between Android and RIM Blackberry) and using of cross-platform frameworks (e.g. PhoneGap/Cordova). It is planned to mention advantages and disadvantages of each approach, to analyze some typical issues and solutions.
Alexander Korshak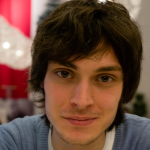 Senior Engineer of mobile applications department, MERA NN, LLC
Alexander Korshak graduated Nizhegorodsky State University, Faculty of Computational Mathematics and Cybernetics, works in Mobile Applications department of MERA-NN since 2010. He develops mobile apps on different platforms, mainly Android. Takes part in pilot and perspective projects in mobile solutions area. Worked in the team responsible for cross-platform component for mobile navigation app.
Igor Garin
Team Lead at mobile applications department, MERA NN, LLC