60% of all patent lawsuits in the United States today are filed by patent trolls. The software industry is particularly vulnerable, with many trolls carpet-bomb the entire industry with warning letters and demands for ransom. This talk examines the reasons for this practice, the economics of troll-dom, recent changes in the patent law regarding trolls, and a few examples of dealing with patent trolls, from the perspective of an American patent lawyer.
George Bardmesser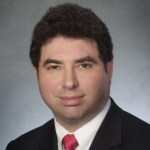 Principal, Bardmesser Law Group
George S. Bardmesser is a US patent attorney with 17 years of experience and the principal and owner of Bardmesser Law Group, which has, as clients, Parallels, Kaspersky Lab, Acronis, Innalabs, Famatech, Elcomsoft, Topcon, Emirates Airlines, StarForce, YUS, and many others. Mr. Bardmesser has 17 years of experience in patent prosecution relating to software, business-methods, electronics, optics and mechanics, as well as litigation and patent licensing experience.