The talk is devoted to automation of resource-consuming but routine tasks performed by Linux software developers who need to maintain large repositories of interconnected software components. Development of a Linux distribution is given as an example. We present the tools used in ROSA Company to automate updates of software components in repositories and perform mass modifications of packages in case of packaging policy changes.
Denis Silakov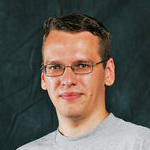 Senior software architect, ROSA
Denis Silakov, Senior Software Architect at ROSA Company, Ph.D. Now Denis is working on automation of ROSA distribution development – in particular, he is responsible for tasks concerning package repository management.