In the report the creative techniques "Visual Brief," "The method of Walt Disney" and "SCAMPER", and the application of these techniques to design user interfaces and design software (web-systems and mobile applications).
Vladimir Zavertaylov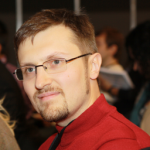 Sibirix
Expert in the field of web-services. Author of numerous publications on such topics as web-development and effective interaction of customers and contractors. As the speaker I participated in professional conferences (RIF KIB, SECR, SCNE, Agile Days, Russian Internet Week, Tagline, Website-2011, Formula Site, 1C Bitrix, etc.).
Since the 2003 – Director of Sibirix Internet solutions the largest in Siberia studio. Specializes in developing applications for social networks. Russia"s first studio, has implemented Agile (Scrum) in the full cycle development of Internet projects. The 1st place in the ranking of web studios in the Siberian Federal District (Rating Runet 2010, 2011), 37 – in the all-Russian rating Tagline (2012). The Studio has representatives in Moscow, London, Munich and Boston.
Among the clients: Megaphone, Adobe Systems, Cisco, Rostelecom, Goon, Logitech. Its own development is – FreshShop – solution for the integration of online stores by 1C Bitrix, with social networks Facebook, Odnoklassniki, VKontakte, MoiMir. Sibirix is a developer and distributor of Planning Poker – a tool to assess the complexity and resources for professional software development teams.