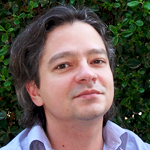 HTML5 Tools Development Manager
Intel
Sergey joined Intel in 2004 and started his career in the company as a team lead for scalar optimization component in Itanium compiler. Since then Sergey had a number of leadership positions in product projects related to compilers, binary translation, developer tools for Intel® Xeon Phi, as well as system developer tools for Intel-based Android devices. Senior Staff Software Engineer. Had a position of Software & Services Group Site Lead at Intel Moscow site in 2010–2011. Graduated from Moscow State University, faculty of Computational Mathematics and Cybernetics. Holds PhD degree in computer science. Delivered lectures in Moscow Institute of Physics and Technology and Moscow State University of Economics, Statistics and Informatics. Nowadays Sergey applies his rich experience in a growing field of developer tools for HTML5 mobile devices.
Presentation: Development for mobile devices. Tools from Intel, platform of your choice!
In his talk Sergey will cover Intel offering for those developers who strive to minimize the cost of software development for a wide range of mobile hardware platforms, operating systems and screen sizes. We will discuss technical tradeoffs that one considers making a choice between HTML5 and native programming languages, such as Objective C and Android Dalvik. You will see how easy and exciting HTML5 development is. Bring your ultrabook and any personal mobile device… Ok, almost any J But all the popular platforms – iOS, Android, Win8 – will do. Right here in the room you will have a chance to experience how just created HTML5 app runs on your mobile device.