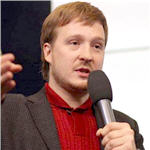 Managing Partner, Agile Coach
ScrumTrek
Nikita Filippov started his career as a developer, and now is the product manager in a major Russian web company. The last 5 years he is implementing Lean and Agile approaches and principles of product management at various levels in various companies – from start-ups to large corporations, with number of people in IT block 300 and more.
Nikita worked and successfully completed the process transformation projects for companies such as Kaspersky Lab, Joint Company Rambler-Afisha, Yandex, Crystal Services (http://www.crystals.ru), Alternative Platform (TankiOnline.com), Rostelecom, Sberbank, Auto.ru etc.
The favorite topics are: product management, business analysis, requirements gathering, Lean-Startup, software development process.
Engagement: IT Companies process transformation using Lean Adoption and Technical Excellence (Code & QA) : TDD, Emergent Design, Refactoring etc.
Presentation: Agile and Lean transformation in projects 100+
Short guide on what not to do