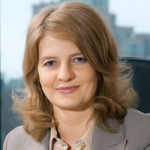 CEO
InfoWatch
Graduated from Moscow State Institute of Electronic Engineering with a master's degree in Applied Mathematics, and has a bachelor's degree in Business of The UK Open University. Natalya Kaspersky is an active participant of international business community life and actively invests in high-tech companies.
Natalya is a co-founder of Kaspersky Lab, one of the world's largest antivirus companies, and CEO of InfoWatch Group of Companies, working in the sphere of information security. During her 10-year tenure at Kaspersky Lab Natalya turned a small group of enthusiasts into a world-class international IT company with annual revenues of hundreds millions USD.
Natalya holds multiple awards in Russian and International Business and IT:
Bronze medalist of "Top-100 most influential Russian women in business" rating.
"Russian Business Leader of the Year 2012" award honoring her remarkable contribution to the progress of the Russian IT community, according to Horasis, the Global visions community.
Leader of "Top-1000 highest Russian managers of 2013" in IT according to Kommersant leading Russian business daily and Association of Russian managers.