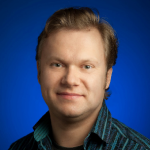 Regional Developers Relations Program Manager
Google
For two decades Dmitri was improving quality of software ecosystems and building technology partnerships. From 2002 to 2012 he worked as a Platform Strategy Adviser in Microsoft Russia where he was in charge of cooperation with partners and promotion of advanced technologies. For three years Dmitri was Head of Application Development at Microsoft consulting department where was actively engaged in constructing complex solutions on the Microsoft platform and promising architectural concepts and technologies.
Since October 2012 Dmitri is Regional developers relations program manager at Google.
Dmitri is an experienced speaker on mobile and cloud-based applications topics.
Presentation: High-quality mobile application — criteria for success
The presentation is based on reallife experience of working with Russian mobile apps developers publishing to Google Play and contains key recommendations for improving the apps quality, aimed at improving the rating and attracting more users.